The average woman uses lip balm anywhere from two to 30 times a day, so make sure you use the best balm to get your dry, chapped lips smooth and soft instantly!
Compared to its fashionable cousins, lipstick and lip gloss, balm is often the forgotten companion that fails to make the spotlight. However, it's something that can be found at the bottom of almost every woman's purse for good reason: with all that makeup and harmful UVA/UVB sunrays, lip balms are a moisturizing must that preps the pout for a smooth, even application of lip color.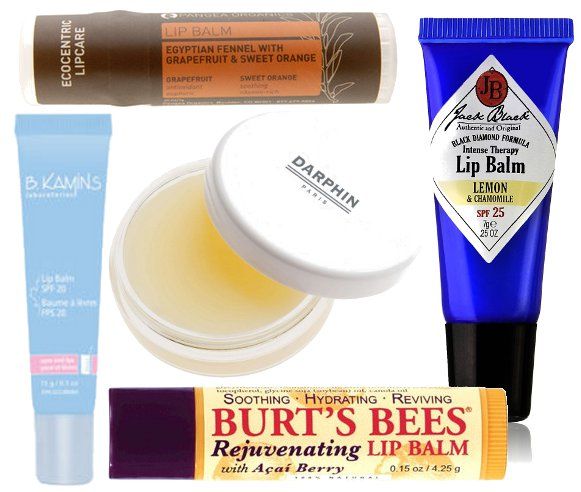 The Best Moisturizing Lip Balm from B. KAMINS LABORATORIES
B. Kamins Laboratories Lip Balm SPF 20 is the best soothing lip balm that helps moisturize and protect lips from sun, wind and extreme temperatures. It helps to repair chapped, sore lips with maple and softening essential oils, while preventing the breakout of lip sores with UVA/UVB sun-screening agents. This lip treatment creates a smoother palette for lipstick application by diminishing the appearance of fine lines and reducing the feathering of lip color.
The Best Moisturizing Lip Balm from JACK BLACK
Jack Black's Intense Therapy Lip Balm SPF 25 comes with various natural extracts: Lemon & Chamomile or Mint & Shea Butter. Enriched with superior skin conditioners and antioxidants, this is the best emollient balm as it soothes and relieves dry, chapped, irritated lips. Unlike waxy sticks, Intense Therapy Lip Balm SPF 25 penetrates quickly to provide instant relief.
The Best Moisturizing Lip Balm from PANGEA ORGANICS
Pangea Organics' Egyptian Fennel with Grapefruit & Sweet Orange and Italian Red Mandarin with Rose are the best certified organic lip balms, featuring a base of deep-moisturizing organic oils that offers tremendous rejuvenating capabilities. Pangea Organics Lip Balms nourish, protect and last an amazingly long time.
The Best Moisturizing Lip Balm from BURT'S BEES
Burt's Bees Rejuvenating Lip Balm with Acai Berry contains super fruit acai berry, which provides free radical fighting antioxidants and vitamins A, C, D and E, as well as healthy Omega oils, giving your lips a rejuvenating experience with a rich, sweet flavor. Apply this balm liberally to your lips as often as needed, particularly in dry, hot or windy conditions. Burt's Bees calls this one their best, super balm!
The Best Moisturizing Lip Balm from DARPHIN
Darphin Age-Defying Lip Balm is an aromatic, age-defying lip balm in a rich, indulgent, creamy formula, which instantly melts onto the lips. This age-defying lip balm nourishes and soothes the appearance of lines, renewing suppleness. This is one of the best lip balms out there because lips appear softer, smoother, plumper and rejuvenated.
For more beauty tips and tricks, check out becomegorgeous.com!

Subscribe and be updated!