Some years ago we had jewelry only worn by women but this is no longer the case. We do see more and more men that embrace accessories on a daily basis. This is definitely great and you can easily find wonderful options that would look great on you on websites like Troll-beads and similar. Whether you want to create your very own leather bracelets or you buy something directly from a seller, options are available for fashion conscious men.
We always recommend that you seriously consider fashionable leather bracelets as they are quite big at the moment. Various forms are currently available, including the popular men friendship bracelet, which is normally made out of interwoven silk cords knotted in order to form some highly elaborate designs. You can easily find some bracelets that are simple in design and some that are highly elaborate, with silver embellishments and even magnetic locking clasps.
The main difference between the women and the men fashion leathers stands in the designs that are present. Female bracelets will normally feature feminine and delicate charms. Bracelets that are designed for men are more rugged and chunkier. The main emphasis is put on durability when looking at men fashion leather bracelets.
Many charms will be highly attractive for men that want to customize appearance. Colorful beads that are made out of polished glass will normally look perfect on the leather bracelets that are soft brown. Designer bracelets will normally add various extra materials in order to make them look more masculine. The main emphasis in design is always put on masculinity. However, combinations are usually the norm. You cannot simply wear a leather bracelet and look masculine. As an example, stainless steel bracelets will normally be accompanies with other matted silver charms. This is also done with leather bracelets to make the look more fashionable for a man.
What is really important when choosing a man's bracelet style is always the personality of the wearer. Someone that is highly active will not want to wear bracelets that are too elegant. In a similar way, the man that is really stylish will want bracelets that are also stylish and preferably made out of a precious metal. Sterling silver is quite a common choice but regular gold can also look great on the wrist of a man.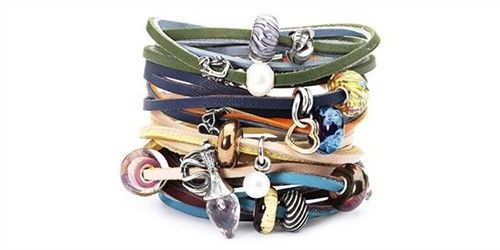 Choosing the material that the bracelet is made out of is the most important thing at the end of the day because of the fact that it will have a huge impact on the overall appearance that is created. Leather bracelets are normally chosen by the active men while the metal ones are better suited to create a sense of fashion.
The great thing about bracelets is that there is a practically endless number of styles available. Variation is great and this basically guarantees that you will be able to find something that will be perfect for you, no matter what personal style you have. Prices are normally lower than with other jewelry items so why not consider a bracelet as your next fashion statement?