Here's a newly opened restaurant in BF Homes (Paranaque) that my South friends and readers should definitely visit! It was only some time in March 2015 (or February, I may have overlooked it when we passed by their restaurant during that month) that Garage 88 finally its doors to those living in the South. The concept of their restaurant revolves around liquor and juicy burgers which is a combination that I know many of you are into.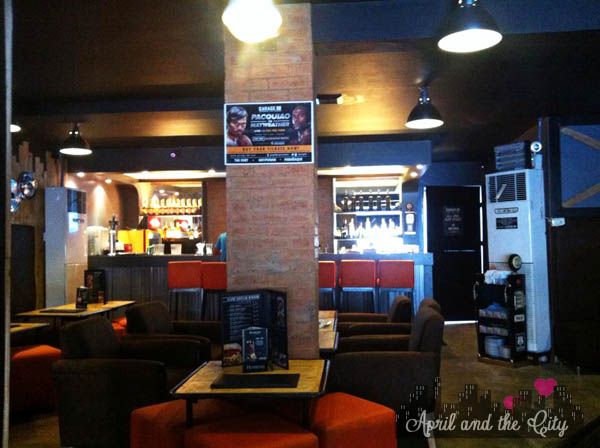 Right off the bat, I fell in love with the interiors of this restaurant. The ambiance is very casual and so it's definitely a good place to hangout, listen to good music, while enjoying delicious food. Although some may not be a fan of loud music but I think it complements really well with the setup that they have plus considering the fact that it is a bar as well.
As for the food, here's what we've ordered and the caption below each is what we think about it.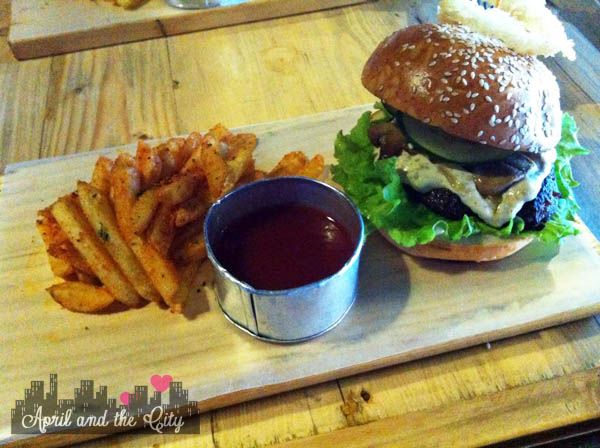 I ordered the Truffle Mushroom Burger which has a price tag of Php288.00 This comprises of a generous size of beef patty, sauteed button mushrooms with truffle mushroom cream sauce and caramelized onions. It's also served with a generous amount of the best tasting fries I've ever tried so far plus 2 onion rings on top of the burger.
For the price and serving, it's definitely worth it! You can really taste the truffle and what I like about it is that it's not too greasy. The presentation is good and compared with other burgers I've tried, this is by far the only burger that's worth purchasing for that amount.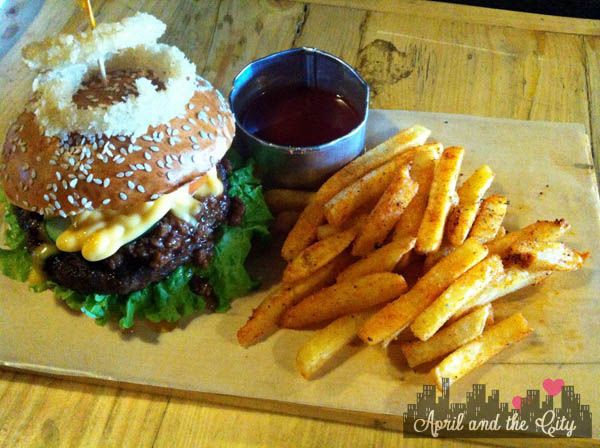 My friend ordered the Garage Famous Burger which is made up of a thick and juicy beef patty drenched in their homemade chili con carne and cheese. This is worth Php208.00 and what we liked about it is that the chili isn't overpowering and the chili on the beef patty is just the right amount.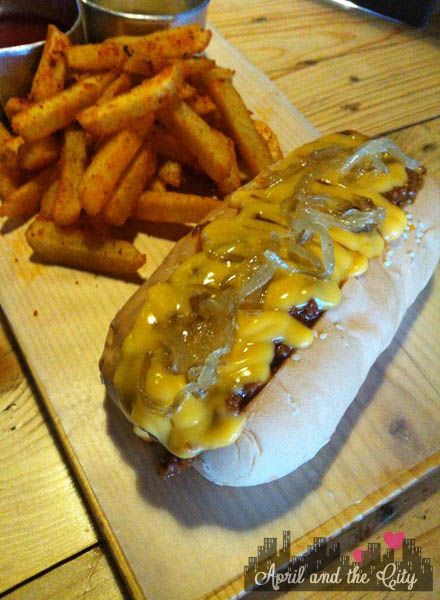 Lastly, my girlfriend ordered the Garage Chili Dog which is basically a grilled frankfurter sausage on a sesame bun that's topped with chili con carne and cheddar cheese. We absolutely loved this just because the bun is perfectly heated up (not too lumpy nor too hard) and the cheese over the chili isn't overpowering when eaten altogether. For Php228.00, it's worth ordering and again this is served with fries (with ketchup and mustard dips on the side).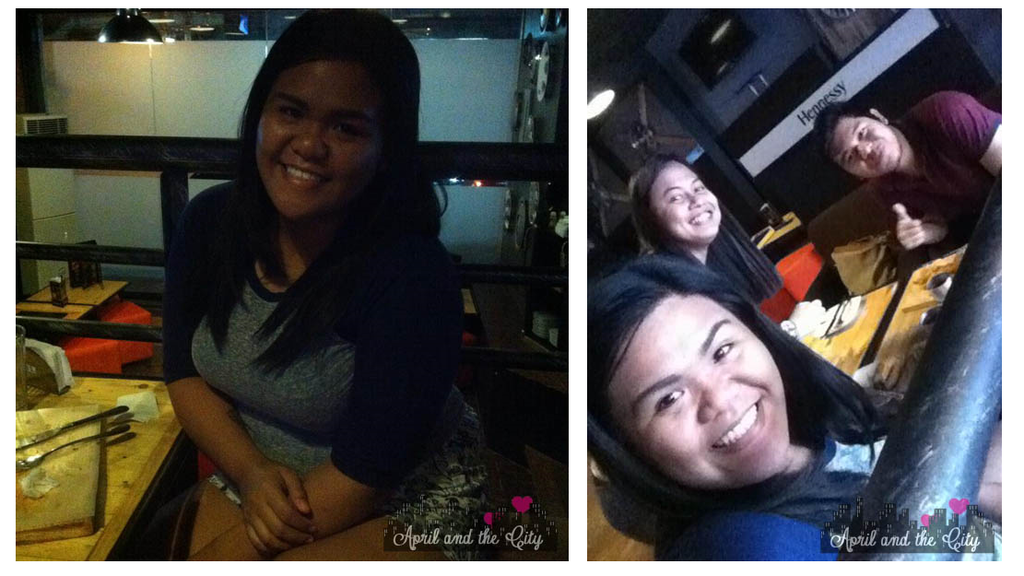 If there's one (or two) things I'd like to see an improvement on, is that I suggest training their staff more to be a little bit more attentive. I noticed that after we walked-in and ordered our food, people started to pile-up and we saw the they were just chatting among themselves in the backdoor. I also suggest that they make sure that all ingredients needed to make their food and drink offerings readily available even before they open. We badly wanted to order some mockbeers and they said they don't have crushed ice and Coke so they can't serve us what we wanted during that time.
But overall, we're definitely going back to try more of their burgers. We really enjoyed dining there and despite the disappointment that we felt (because we didn't get to have our mockbeers), it's not a reason for us to stop visiting their restaurant.
Location/Space – ★ ★★★★
Ambiance – ★ ★ ★ ★ ★
Price – ★ ★ ★ ★
Service – ★ ★ ★
Taste/Presentation – ★ ★ ★★★
OVERALL – ★ ★ ★ ★
Garage 88
Aguirre St, BF Homes, Paranaque City
+63 917 823 5490
Operating Hours:
Monday-Sunday, 10:00AM-2:00AM
www.garage-88.com
www.facebook.com/garage88burgersandbeers
DISCLAIMER: I am not, in any way, affiliated with Garage 88. This review is written by me and are from my own words and is 100% unbiased. For questions on how I do my reviews, please refer to my DISCLOSURE POLICY.