Hello everyone! Today I will be sharing with you some tips that I have acquired (based on experience) for almost 3 years that I have been into makeup. One of the "hit and miss" purchases I used to have was with foundations. Let's be honest, we have those purchases wherein the foundation we bought isn't a match with our skin color and skin type. Let's begin!
1. DETERMINE YOUR SKIN TYPE
I did an in depth post about this topic and you can read it HERE. Basically, you need to determine whether you have a normal, oil, dry, combination skin – that way, you'll be able to purchase a product that suits your skin type best.
2. DETERMINE YOUR SKIN'S UNDERTONE
Next, you have to determine your skin's undertone. Basically, there are 3 different kinds and here's a quick guide if you're not familiar with this:
Warm (yellow or golden undertone)– personally, a quick way for me to determine whether one has a warm undertone is checking if he/she has a yellow-ish cast on her face. But for those who are still unfamiliar on how to check undertones, you can determine this by checking your veins in your wrist – if it's green, then you have a warm undertone.
Cool (pink, red or blue-ish undertones) – again, by checking your wrist, if you have a blue vein, then you have a cool undertone.
Neutral – a combination of cool and warm undertone.
Here is another way for you to easily determine whether you have a cool or warm undertone: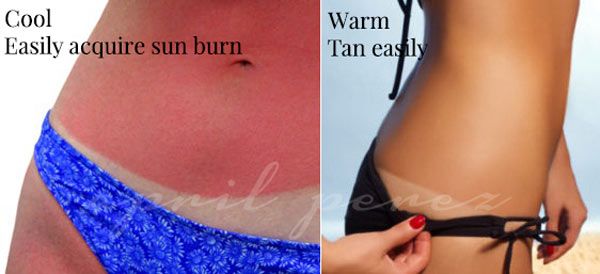 3. DETERMINE YOUR SKIN TONE
Skin colors ranges from fair to deep. For you to easily purchase a foundation shade, you need to have an idea in which color your skin best fits in. Although not all foundation line has a match for every skin color that everyone has, choose one that's closest to your skin color.
One thing that I have learned is that you should pick a foundation that is at least 1 shade lighter than your skin tone. The reason behind this is that most foundation oxidizes as it blends in your skin. Since you'll set it with a powder, it will then blend well into your skin color.
4. DETERMINE WHAT COVERAGE YOU LIKE
Depending on where you live, you may have different preferences when it comes to coverage. If you live in a country that has a humid weather (just like where I live, Philippines), you may want to choose a foundation that has a light coverage.
If you live in a country wherein weather is not an issue, meaning it's neither hot nor humid, you can choose between a medium coverage or full coverage foundation.
But then again, depending on how well you want to cover certain issues in your face like redness, acne, etc., choose a coverage that will satisfy your needs – just make sure that if you live in a humid country, set and retouch your face so it won't melt right off.
5. KNOW YOUR BUDGET
Lastly, determine how much you can allot for a makeup foundation. If budget isn't an issue, you can purchase from high end brands such as MAC, Chanel, Makeup Forever, and Nars.
If you're on a tight budget, fear not because there are drugstore brands that have the best foundation. Based on my experience, the ones that have the bes foundations are Covergirl, Revlon, Maybelline, and Loreal.
If there are other things that I wasn't able to cover, share your tips in comment section so we can exchange thoughts.
DISCLAIMER: this is not a paid post. All brands mentioned are from my personal recommendations. Images used were all grabbed from Google. Credit goes to the rightful owners of these images.