As much as possible, I stir away from visiting mainstream coffee shops. Why? Because it's overrated, crowded, and the ambiance that a coffee shop must have is no longer present.
Operating for less than a month only and still in soft opening, Penny Lane Coffee house is the perfect hangout place for those whose preference are same as mine. I would say the ambiance is serene and although they play 70's rock (music) in the background, the two combination is unique in its own way that not everyone will understand why it's a bit nostalgic.
Their selection of drinks is nothing special – it's a choice between the usual: ice blended, over ice, or hot. What differs their drinks from the others is the taste and the price. Although it's at par with the famous coffee houses out there, Penny Lane's coffee selections are way more tastier.
We also ordered something to eat and we've decided to try their Reese's Peanut Butter Waffles. With a price tag of Php150.00 we weren't expecting so much – we thought it was the typical sweet, overloaded peanut butter waffle that we're used to having in other places. But all our assumptions were wrong, first bite and we wanted more! It has the right sweetness, the ratio of waffle to whip cream is just right, and the price is reasonable.
For drinks, we ordered an Ice Blended White Mocha and an Over Ice Matcha Green Tea Latte.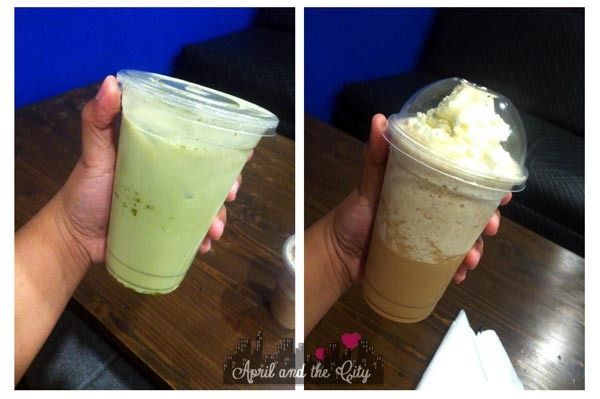 The next day, we went back and ordered an Ice Blended Coffee Crumble and Over Ice Caramel Macchiato. This may sound crazy but Penny Lane's Caramel Macchiato is better than Starbucks' IMHO.
Overall, Penny Lane Coffee is our (latest) favorite hangout spot! We love their coffee, the ambiance, and the staff are really friendly. They have WIFI too so if you want a place to study or to do some work, this place is perfect for you!
Location/Space – ★ ★★★★
Ambiance – ★ ★ ★ ★ ★
Price – ★ ★ ★ ★ ★
Service – ★ ★ ★ ★
Taste/Presentation – ★ ★ ★ ★ ★
OVERALL – ★ ★ ★ ★
Penny Lane Coffee
317-A Aguirre Avenue, BF Homes, Parañaque City
Monday-Sunday, 8:00AM-2:00AM
Visit their Facebook page by clicking here!
DISCLAIMER: I am not, in any way, affiliated with Penny Lane Coffee. This review is written by me and are from my own words and is 100% unbiased. For questions on how I do my reviews, please refer to my DISCLOSURE POLICY.